Freddy Forster served up a tasty roasted aubergine and feta cheese ravioli on Steph's Packed Lunch.
The ingredients for the Pumpkin sauce are: 200g Diced pumpkin, peeled, 1 small onion, 250 ml Vegetable stock, Salt/Pepper and Pinch of Cumin powder.
For the Aubergine And Feta Ravioli: 4 Large Pasta Shells (Conchiglioni), 1 Small Aubergine, 1 sprig thyme, 1 garlic bulb (roasted, wrap in tinfoil & bake for 30-40 mins until soft – optional), 2 Tablespoon breadcrumbs and 150g Feta cheese (Crumbled into small pieces).
For the Fruity herb dressing: 1 Tablespoon Sultanas, ½ Tablespoon toasted Pine nuts, Olive oil, 1 tsp sherry vinegar, 5 Leaves of Basil (Roughly chopped) and Touch of lemon juice.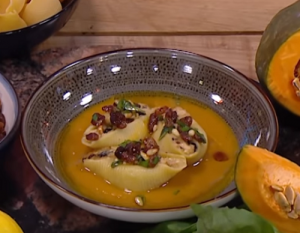 See more ravioli recipes in the book titled: 123 Homemade Ravioli Recipes: Welcome to Ravioli Cookbook available from Amazon now.