Lisa Faulkner and John Torode served up a delicious apple and blackberry crumble cake to start the new year on John and Lisa's Weekend Kitchen.
The ingredients are: 2 large Cox apples, peeled cored and each cut into 16 slices, 200g blackberries, 1 tbsp light brown soft sugar, 250g caster sugar , 200g butter, softened, 4 eggs, 300g plain flour, 1 tsp baking powder, 1 tbsp vanilla extract (plus a little extra for the apples) and 1 pinch of salt.
For the crumble: 80g plain flour, 40g light brown soft sugar and 50g butter.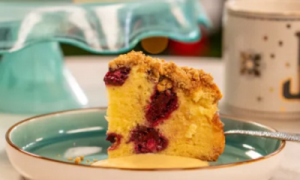 See recipes by Lisa in her book titled : Tea and Cake with Lisa Faulkner
available from Amazon
now.