Freddy Forster served up a festive parsnip soup with chestnuts, sprouts, butter and pigs-in-blankets on Steph's Packed Lunch.
The ingredients are: 1 tbsp vegetable oil, 75g unsalted butter, ½ onion, peeled and finely diced, 750g parsnips, peeled and diced, 1 bay leaf, 500ml almond milk, 500ml vegetable stock and 2 tbsp honey.
To Garnish: 1 whole white baguette, 2tbsp Olive oil, 12 pieces pigs in blankets, 50g unsalted butter, 12 pieces small button mushrooms, 8 Brussels sprouts, cooked in boiling salted water for 2 minutes, 8 pieces cooked chestnuts, 4tbsp red cabbage, finely shredded and 3 sage leaves, roughly chopped.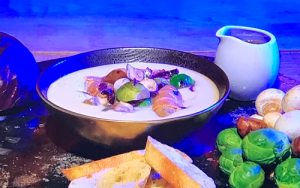 See more soup recipes in the book titled: The Soup Book: 200 Recipes, Season by Season available from Amazon now.