Theo Michaels served up a tasty aromatic fish pie on Steph's Packed Lunch.
The ingredients are: 400g white fish fillets (I'm using pollock) skinned, cut into chunks, 200g smoked haddock fillet, skinned, cut into chunks, 3 tablespoons chopped coriander, 200g shelled prawns and 1 cup petit pois (defrosted).
For the bechamel sauce: 600ml full-fat milk , 2 tbsp curry powder (or 1 tbsp garam masala, 1 tsp ground cumin, 0.5 tsp turmeric, pinch chili powder), 50g unsalted butter , 50g plain flour and Salt/Pepper.
For the crust: 4 tablespoons chopped coriander, 150g course breadcrumbs / finely ripped bread, 4 tablespoons grated Parmesan cheese and Drizzle olive oil.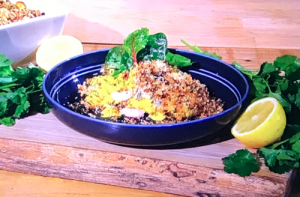 See recipes by Theo in his book titled: Canned: Quick and easy recipes that get the most out of tinned food available from Amazon now.