Paul Rankin served up tasty Chargrilled Squid with Noodles, Chilli and Coriander on James Martin's Saturday Morning.
The ingredients are: 450g fresh squid, 150g cellophane noodles and Vegetable oil.
For the vinaigrette: 25g fresh ginger root, 4 tablespoons wine vinegar, 1 tablespoon mushroom soy or dark soy sauce, 2 tablespoons chilli sauce, 1 bunch fresh coriander, picked and roughly chopped, Salt and freshly ground black pepper, 175ml vegetable oil and 120ml sesame oil.
For the pepper garnish: 175ml rice wine vinegar, 3 table spoons sugar and 1 red pepper.
To garnish: Prepared salad greens, Sesame seeds, toasted and Chopped fresh coriander.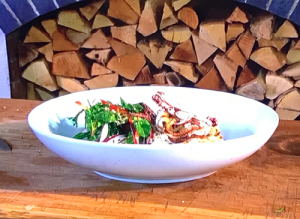 See recipes by James in his book titled: Complete Home Comforts: Over 150 delicious comfort-food classics available from Amazon now.