Gino D'acampo returned to the This Morning kitchen to serve up a tasty looking vegetarian pasta with aubergines dish that is an ideal meal for an after Easter supper.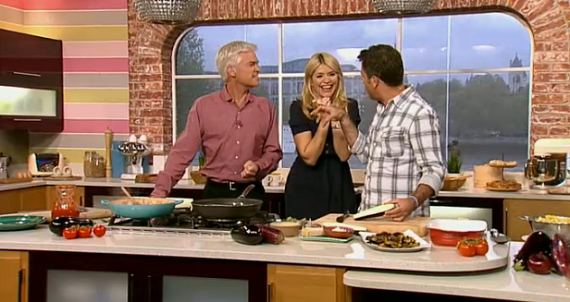 The Italian chef make Tortiglioni alla parmigiana with aubergines, red onions, pasta and a parmesan cheese topping.
The ingredients are: 500g Tortiglioni, 2 large aubergines, 3x400g tinned chopped tomatoes, 150ml olive oil, 15 basil leaves, 2 large red onions, peeled and finely sliced, 80g freshly grated Parmesan cheese, Salt and black pepper to taste.
To prepare the dish, place the aubergines on a chopping board and cut into strips about 1cm wide and 5cm long fingers, discard the centre part containing the seeds.
Heat the olive oil in a large frying pan, add the aubergines and fry for 8 minutes until golden brown. Stir occasionally.
Remove the aubergines from the pan and drain on kitchen paper. Sprinkle with a little salt.
Fry the onions in the same frying pan and same oil you cooked the aubergines for 8 minutes. Stir occasionally with a wooden spoon. Add in the tomatoes with the basil, stir all together and simmer on a medium heat for 15 minutes. Stir occasionally.
Add in the aubergines, stir and continue to cook for a further 2 minutes. Season with salt and pepper and set aside.
Fill with 5 litre of water a large saucepan and take to the boil. Add in 1 tablespoon of salt and cook the pasta in the boiling water until al dente. Stir occasionally to prevent from sticking. "To get the al dente perfect bite, cook the pasta 1 minute less then instructed on the packet".
Drain the pasta and tip back into the same saucepan where you cooked it. Take the saucepan on a low heat, pour over the aubergine sauce and half of the Parmesan cheese. Stir all together for 30 seconds, allowing all the flavours to combine properly.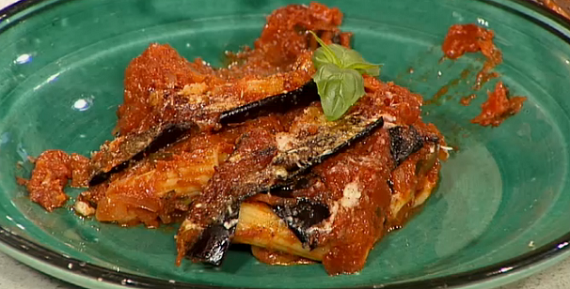 Transfer into an ovenproof dish big enough to contain all the pasta and sprinkle the top with the remaining Parmesan cheese.
Place under a hot grill for 10 minutes until the top gets bubbly and crispy. Remove the dish from under the grill and leave to rest for 5 minutes before portioning.