The Hairy Bikers serves up an alcoholic dream meal with their pork sausage and beer / ale casserole dish.
The bikers says: "The sweetness of the muscovado sugar balances the bitterness of the beer. Serve with creamy mashed potatoes."
The ingredients for their IPA beer dish are: 1 tbsp sunflower oil, 12 good-quality pork sausages, 2 medium onions, 2 celery sticks, trimmed and thinly sliced, 3 medium carrots, peeled and thickly sliced, 500ml India pale ale, ½ beef stock cube, 2 tbsp tomato purée, 2 tbsp light muscovado sugar, 1 bay leaf, splash Worcestershire sauce, 2 medium leeks, trimmed and cut into 2cm/1in slices, 1 tbsp cornflour, 1 tsp flaked sea salt, plus extra to season, freshly ground black pepper, fresh parsley, chopped, to garnish.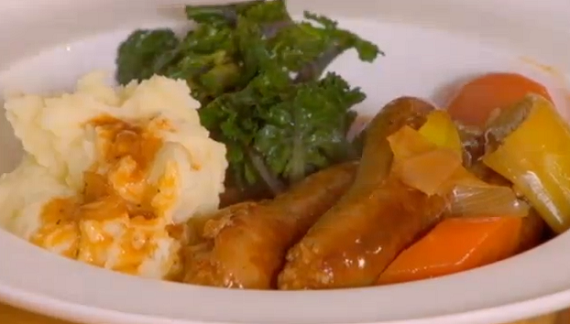 see how the Bikers prepare their sausage casserole in this video: