James Martin served up tasty game bird feast with grilled partridge, deep fried quail with buttermilk and sweet corn relish on James Martin's Saturday Morning.
The ingredients are: 2 partridge portioned, 400ml buttermil, 200g plain flour, 1 tbs paprika, 2 tsp onion salt, 1 tsp black pepper, ½ tsp celery salt, ½ tsp dried sage, ½ tsp garlic powder, ½ tsp ground allspice, 1 tap dried oregano, 1 tap dried marjoram, ½ tsp dried basil and Vegetable oil for frying.
For the relish: 2 corn on the cob corn removed, 1 red chilli diced, 50ml white wine vinegar, 50g caster sugar, 4 spring onions sliced and 2 tomatoes, diced.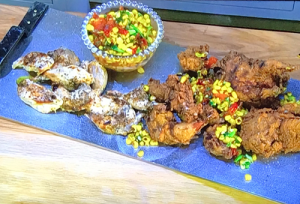 See recipes by James in his book titled: Home Comforts available from Amazon now.