Si and Dave make bread and butter pudding with brioche and chai drawing on Britain's colonial past for flavours in their search for Best of British foods.
The bikers say: "Try a twist on an old-fashioned favourite with rich buttery brioche and custard infused with tea and spices."
Their ingredients for their bread and butter pudding are: 15 green cardamom pods, 8 cloves, 1 tsp freshly grated nutmeg, 1½ tsp ground ginger, ½ tsp flaked sea salt, 400ml whole milk, 150g golden caster sugar, plus 1 heaped tbsp for sprinkling, 1 tsp vanilla extract, 2 tbsp Indian leaf tea, preferably Assam, 1 long strip orange peel, 1 cinnamon stick, broken in half, 300g brioche loaf, 50g softened butter, 125g mixed dried fruit, 4 large free-range egg yolks, 2 large free-range eggs, 300ml double cream.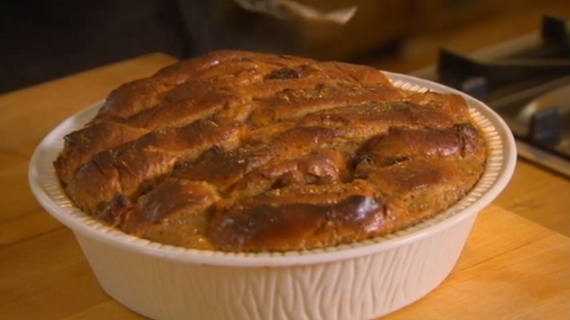 See how to prepare the bread and butter pudding in this video.