Clodagh Mckenna served up delicious beauty bars with beetroot, carrot and mint glow juice for a 'beat the bloat' breakfast on This Morning.
The ingredients for the glow juice are: 1 beetroot (scrubbed and chopped into cubes), 2 carrots (washed and sliced), ½ apple , ½ cucumber, 2 tbsp fresh turmeric (sliced), Juice of 1 lime , 200ml water (only if using a blender) and 2-3 cubes of ice.
For the beauty bars: 260g jumbo porridge oats , 100g dried apricots, roughly chopped , ½ tsp nutmeg, and ground ginger, 1 tbsp flax seeds, 1 tbsp pumpkin seeds, 1 tbsp sunflower seeds, 6 tbsp maple syrup and 60ml sunflower or vegetable oil.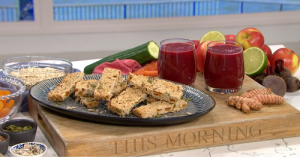 See recipes by Clodagh in her book titled : In Minutes: 10, 20, 30 – How much time do you have tonight? available from Amazon now.