Nisha Katona served up a tasty prawn and coconut korma with mango and cashew nuts for a Friday night feast on This Morning.
The ingredients are: 120ml veg oil, 2 onions, finely chopped, 2 cloves of garlic, pureed, 4 cm of fresh ginger, minced, 3 tbsp garam masala, 1 heaped tsp coriander powder, 1 tsp turmeric, 1/4 tsp chilli powder, 2 green chilies, finely sliced, 1/2 – 1 tin coconut milk (depending on how much sauce you want – if serving with wraps it should be drier), 100g creamed coconut, 1.5 tsp salt, 1 tsp brown sugar, 1 whole mango chopped in to 3 cm pieces, 100g roasted salted cashew nuts and 450g large king prawns, de-shelled and deveined.
To serve: 1 tbsp of finely chopped fresh ginger sticks and Fresh chopped coriander to garnish with a couple of red chilli slices to pretty it up!
Optional: rice/wraps.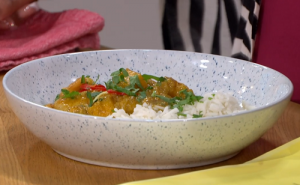 See recipes by Nisha in her book titled: 30 Minute Mowgli: Fast Easy Indian from the Mowgli Home Kitchen available from Amazon now.