Phil Vickery served up 'easy peachy' peach and custard pastries, sweet pickled peaches, peach salsa and pork chops on his Morning.
The ingredients for the sweet pickled peaches are: 8 ripe peaches, 275mls cider vinegar, 120g dark brown Muscovado sugar, 120g light brown Muscovado sugar, ½ tsp salt, 10 cloves, 1 cinnamon stick and Juice of 2 large lemons.
For the peach salsa: 4 ripe peaches, 1 small red pepper, cut into very small pieces, 3 spring onions, very finely chopped on a long angle, Finely grated zest and juice 3 large limes, 6 tbsp roughly chopped coriander, 1 tbsp very finely chopped fresh ginger, 2 tbsp runny honey, Dash Sherry vinegar, Salt and black pepper.
For the poek chops: 2 level tbsp table salt, 2 level tbsp caster sugar, 1 tsp ground black pepper, 4 large pork chops 3-4 cm thick, rind on and cut every 1cm along the edge and oil for frying.
For the peach and custard pastries: 4 poached peaches, peeled and halved, 500g butter puff pastry, rolled out to 2-3mm thickness and rested chilled really well, 8 tbsp thick cold custard, made from powder and sweetened, 8 tbsp peach or apricot jam, 1 egg beaten, Cornflour and Water.
Clotted Cream to serve.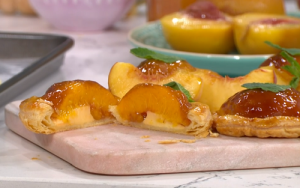 See recipes by Phil in his book titled: Save Money Good Diet: The Nation's Favourite Recipes with a Healthy, Low-Cost Boost
aviialble from Amazon
now.