Phil Vickery served up a tasty football feast with nachos, cheesy chips and pizza on This Morning.
The ingredients for the nachos are: 200g tortilla chips, 4 tbsp olive oil, Salt and freshly ground black pepper, 4 tbsp extra virgin olive oil, 2 small red onions, very finely chopped, 2 cloves garlic, pasted, 2 tbsp tomato puree, 400g sun-blush tomatoes, chopped, 2 ripe plum tomatoes, roughly chopped, 4 tbsp fresh coriander, roughly chopped, Juice 2 large limes, 2-3 tbsp sherry vinegar, Chopped fresh from 2 ripe avocados, 200ml sour cream, 250G Monterey Jack cheese, grated , Coriander and Chives.
For the cheesy chips: 1 kg triple cooked oven/fries, 8 smoked hot dog sausages finely chopped, 2 small onions, finely chopped, 1 clove garlic, finely crushed, 600ml water, roughly, 2 x beef stock cubes, crumbled, Dash Worcester sauce, Salt and ground pepper, 2-3 tbsp cornflour / arrowroot, Water and 200g grated strong cheddar.
For the pizza sauce: 50ml extra virgin olive oil, 1 medium onion, peeled and finely chopped, 2 cloves garlic, finely chopped, 1 x 400g can chopped tomatoes in juice, 2 tbsp tomato puree and 1tbsp any vinegar I used malt vinegar.
For the pizza base: 250g self raising flour, Pinch salt, 100g fat free yoghurt, Water, 4 tbsp chopped fresh basil, 2 tsp dried oregano and Ground black pepper.
For the pizza toppings: 200g buffalo mozzarella sliced, 50ml olive oil, Cracked black pepper and 1 small fresh basil.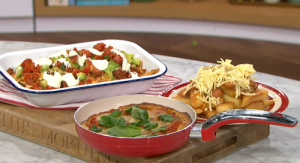 See recipes by Phil in his book titled: Save Money Good Diet: The Nation's Favourite Recipes with a Healthy, Low-Cost Boost
aviialble from Amazon
now.