Tonia Buxton served up a tasty chicken Gyros with homemade tzatziki on Sunday Brunch.
The ingredients are: 8 boneless skinless chicken thighs, 500g Greek yoghurt, 150ml olive oil, juice of 2 lemons, 1 tbsp cumin, 1 tbsp coriander, 1 tbsp dried oregano, 2 tbsp sweet paprika, 1 tbsp sumac, 1 tbsp salt, 1 tsp chilli pepper, 1 tsp turmeric, 1 tsp black pepper, 4 crushed garlic cloves and 1 large onion.
To serve: Greek flatbread, home made tzasiki, sliced onion, tomatoes and a sprinkle of oregano.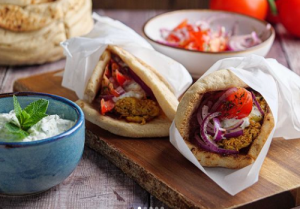 See recipes by Tonia in her book titled: The Secret of Spice: Recipes and ideas to help you live longer, look younger and feel your very best available from Amazon now.