Hermine served up delicious strawberries and cream biscuits (palet breton) on Lorraine.
the ingredients are: 185g butter, room temperature, 110g icing sugar, 2 small egg yolks, 55g ground almonds, 160g plain flour, 1 tsp vanilla extract and ½ tsp salt.
For the decoration: 1 vanilla pod, 40g icing sugar, 300ml double cream, 150g small strawberries and 20g shelled pistachio nuts, chopped.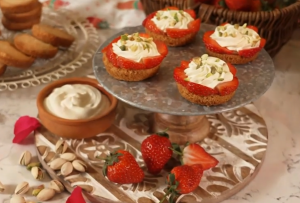 See more biscuit recipes in the book titled: 150 Delicious Biscuit Recipes: A Must-have Biscuit Cookbook for Everyone available from Amazon now.