James Martin served up BBQ pork ribs with jacket potatoes, celeriac remoulade and cider sauce on James Martin's Saturday Morning.
The ingredients are: 2k pork ribs, 1 onion, 2 carrots, 1 bulb garlic, 1 small bunch parsley, water to cover, a few peppercorns, 10 star anise, 1 tbs fennel seeds and 2 cinnamon sticks.
For the sauce: 100g butter, 100g caster sugar, 100ml treacle, 100ml condensed milk and 75ml cider.
For the slaw: ½ celeriac, peeled and thinly sliced, 2 granny smith apples cored and thinly sliced, 4 tbs mayo, 1 tbs grain mustard and 1 tbs chives chopped.
For the potatoes: 6 large baking potatoes, 1 tbs sea salt and 200g Butter.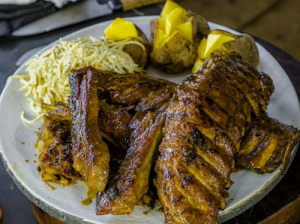 See recipes by James in his book titled: Home Comforts available from Amazon now.