Allegra Mcevedy served up delicious pop cakes on Steph's Packed Lunch.
The ingredients are: 225g unsalted butter, softened + extra for greasing, 00g golden caster sugar, 2 eggs, 125g ground almonds, ¼ tsp baking powder, 1 lemon, Salt and 350g plain flour + extra for your palms.
For the filling: 95g white chocolate, 65g unsalted butter, 125g honey and 3 tbsp water.
For the garnish: Popping candy, Sugar nibs and Edible glitter.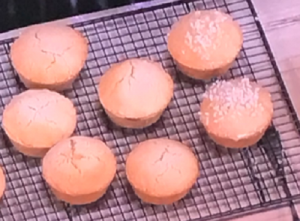 See more recipes by Allegra in her book titled: Jolly Good Food: A Children's Cookbook Inspired By The Stories Of Enid Blyton available from Amazon now.