Briony Williams served up a delicious miso caramel and pear chocolate layer cake on Ainsley's Food We Love.
The ingredients for the sponge: 400g self raising flour, 500g golden caster sugar, 1 tsp salt, 100g cocoa powder, 170ml vegetable oil, 3 medium eggs, 1 tsp whole milk, 300ml boiling water plus 2 tsp instant coffee.
For the Italian buttercream icing: 140g egg white, 560g icing sugar, 510g unsalted butter, room temperature and 2 tsp vanilla extract.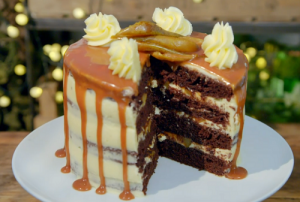 See more chocolate cake recipes in the book titled: 150 Amazing Chocolate Cake Recipes: Chocolate Cake Cookbook – Your Best Friend Forever available from Amazon now.