Hywel Griffith served up 'The Great Nebula of Andromeda' blue cheese salad starter on The Great British Menu 2021.
The content of the dish include a blue cheese mousse, hazelnuts, pickled beetroot, muscat grapes, purple potato crisp, apple, Welsh white shuffles, maple syrup dressing and and beetroot powder.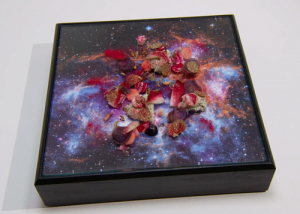 See blue cheese recipes in the book titled: 222 Tasty Blue Cheese Recipes: The Blue Cheese Cookbook for All Things Sweet and Wonderful! available from Amazon now.