Mark Tilling made delicious chocolate carrot muffins with chocolate cream cheese and chcoclate soil served in Terracotta Pots for Easter non James Martin's Saturday Morning.
The ingredients for the chocolate cream cheese are: 75g dark chocolate, 100g cream, 30g icing sugar, 360g cream cheese and 1 orange zest and juice.
For the chocolate soil: 60g butter, 40g sugar, 35g black cocoa powder (can use normal cocoa powder) and 65g plain flour.
For the chocolate carrot muffins: 100 g light brown sugar, 175 ml sunflower oil, 2 large eggs, 150 g plain flour, 25g cocoa powder, ¾ teaspoon baking soda, ½ teaspoon cinnamon, ½ teaspoon mild curry powder, 200g carrot, Pinch of salt, 50g chocolate chunks and 50g walnuts.
Chocolate Carrots: Shop bought chocolate eggs, 400g white chocolate, Orange dust colouring and Green dust colouring.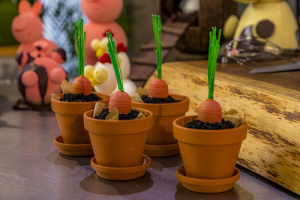 See recipes by Mark in his book titled: Mastering Chocolate: Recipes, Tips and Techniques from the Award-Winning Master Chocolatier available from Amazon now.