John Torode cooked a tasty Greek style marinated chicken with flatbread and Green chilli chutney on This Morning.
The ingredients are: whole chicken deboned or 4 chicken thighs and 4 legs boned and flattened, 10 cloves of garlic, 1 teaspoon of salt (flaked preferably), 200mls olive oil, 2 lemons, juiced, Handful of picked rosemary, A large handful, flat leaf parsley, A large handful of fresh oregano or marjoram, 100g plum tomatoes, 200g black pitted olive and 200g crumbled feta.
For the flatbread: 250g self raising flour, 250g yoghurt, 1tsp baking powder and 1tbsp olive oil.
For the green chilli chutney: Small bunch of mint, Bunch of coriander, 3 green chillies (not too big ), ½ tsp garam masala roasted, Lemon juice, Cayenne pepper & salt, 1 small shallot, chopped.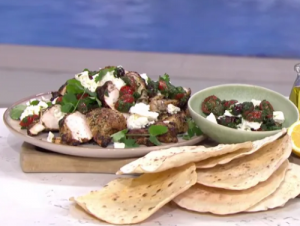 See recipes by John in his book titled: My Kind of Food: Recipes I Love to Cook at Home
available from Amazon
now.