James Martin served up beer butt chicken with wood roasted vegetables,tofu and tahini sauce on today's episode of James Martin's Saturday Morning.
The ingredients are: 1.6k corn fed chicken, scored, Salt and pepper and 1 large can larger, pour 1/3rd into a glass.
Vegetables: 1 small squash or pumpkins, 50 ml olive oil, 1 bunch broccolini, 2 red onions peeled and 1/4d and 4 small aubergines 1/2d.
Dressing: 5 tbs tahini, 200g tofu, 75ml olive oil and Salt and pepper.
To serve: 2 tbs white sesame seeds toasted, 1 small bunch coriander chopped and 1 small bunch mint chopped.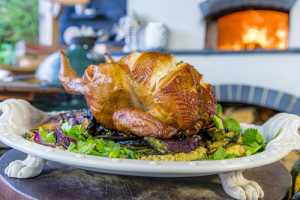 See recipes by James Martin in his book titled: More Home Comforts: 100 new recipes from the television series
, available at Amazon
now.