Joseph Denison Carey served up a tasty midweek fish super with sea bream, chorizo, puy lentils (pre cooked packet) and harissa paste on This Morning.
The ingredients are: 1 tbsp olive oil , 100g diced chorizo, 1 red onion, diced, 2 cloves garlic, grated, 1 tbsp harissa paste, 2 tbsp olive oil, Pinch of salt, 2 sea bream fillets, skin on, 250g puy lentils (pre cooked packet), Unsalted butter, 4-5 thyme sprigs, Handful of chopped parsley and Lemon slices, to serve.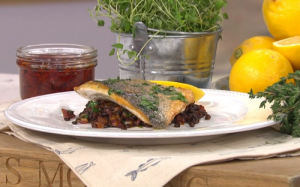 See more fish recipes in the book titled: The Big 10 Fish & Seafood Cookbook: 10 Seafood, 80 Recipes, 240 Variations available from Amazon now.