Nadiya Hussain served up a tasty prawn biryani with ginger, padron peppers, tamarind paste and a mango salsa Nadiya's American Adventure.
The ingredients for the rice are: 1kg basmati rice, 2 tsp salt and 2 tsp turmeric.
For the prawn mix: 6 tbsp vegetable oil, 5 cardamom pods, crushed, 2 medium onions, finely chopped, 100g fresh ginger, peeled and grated, 2 tsp salt, 2 tomatoes, roughly chopped, 1 lime, quartered, 4 tsp tamarind paste, ½ tsp ground cinnamon, 1 ½ tsp ground coriander, handful coriander stalks, reserving the leaves for the mango salsa and 450g raw king prawns, peeled.
For the base: 6 tsp vegetable oil, 2 medium onions, thinly sliced and 8 padron peppers, pierced.
For the salsa: 1 large mango, peeled and chopped into cubes, large handful dried chilli, roughly chopped, 1 small red onion, finely chopped, 1 lime, juice only and handful coriander leaves, finely chopped.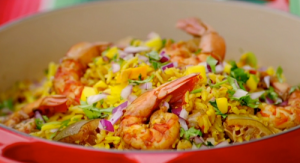 See recipes by Nadiya in her book titled: Nadiya Bakes: Includes all the delicious recipes from the BBC2 TV series
available from Amazon
now.