John Torode and Lisa Faulkner served up a tasty salmon en croute (salmon pie) with hasselback root vegetables, peas and beetroot and a fresh horseradish sauce on John and Lisa's Weekend Kitchen.
The ingredients for the pie are: 2x 450g pieces of salmon, skinned, 60g salt, 60g brown sugar, 4 peppercorns, ground, 200g spinach, blanched and chopped, 100g watercress, chopped, 100g cream cheese, 50g creme fraiche, 500g puff pastry, or 2 squares of ready rolled puff pastry, 1 egg, beaten and Salt and pepper.
For the root vegetables: Charlotte potatoes, carrots, parsnips, Lots of cloves of garlic, bashed, Olive oil and/or butter, Salt and pepper, Fresh herbs, chopped, to serve.
For the peas and beetroot: Frozen peas, frozen, ready chopped onions, Pre cooked beetroot, quartered, butter, olive oil, salt and pepper and stock(whichever you prefer).
For the horseradish sauce: grated horseradish, lemon juice, salt and sour cream.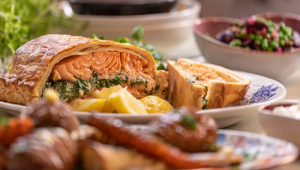 See recipes by John in his book titled: My Kind of Food: Recipes I Love to Cook at Home
available from Amazon
now.
See recipes by Lisa in her book titled: The Way I Cook…
available from Amazon
now.