Lisa Faulkner and John Torode served up tasty chip butty with paneer cheese, chilli chutney and pickled onions wrap on John and Lisa's Weekend Kitchen.
The ingredients for the butties: 4 large potatoes, sliced into chips , 1-2 tsp turmeric , 1 tsp coriander seeds, 2 tsp curry powder, 3 spring onions, diced, Good handful fresh coriander, chopped , Block of paneer, sliced into strips, Jar of curry sauce, Olive oil and flatbreads of your choice, such as wraps, naans or chapatis.
For the chutney: 2 red chillies, including seeds , 1 lime, juiced, 1 – 2 tbsp coconut milk, Good handful fresh coriander, 1/2 handful mint and Salt and pepper.
For the pickled onions: 1 large red onion, thinly sliced in rings, 1 tbsp caster sugar, 100 ml apple cider vinegar and 50 ml water.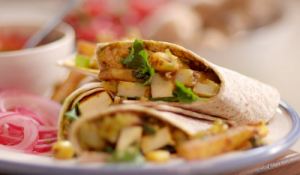 See recipes by Lisa in her book titled : Tea and Cake with Lisa Faulkner
available from Amazon
now.