John Torode served up a tasty winter cottage pancakes with hot smoked salmon, beetroot, maple syrup and horseradish cream on This Morning.
The ingredients for the beetroot: 4 beetroot with leaves on, washed thoroughly, 2 sprigs of thyme, 4 cloves of garlic (cracked open), 20ml olive oil and Splash of water.
For the maple dressing: 40ml olive oil, 10ml maple syrup, 10ml malt vinegar, 20ml lemon juice, Grated fresh ginger, For the herbed Scotch pancakes, 1 tsp bicarbonate of soda, 350g self raising flour, 1/2 tsp salt, 1 tsp granulated sugar, 100g melted butter, 200 ml buttermilk, 400 ml milk, 2 eggs, Small bunch of fresh mixed herbs (parsley, dill or tarragon), chopped and 50 ml vegetable oil for greasing.
For the salmon: 250g Lapsang Souchong tea, 300g green wood chips, 1 large fillet of salmon, skin scored and bones removed, 30g salt, 1 tbsp smoked paprika, 1 tsp coriander seeds, 1 tsp soft brown sugar and ½ tsp cracked black peppercorns.
For the Horseradish cream: 200ml crème fraîche, 50grs fresh grated horseradish, 10mls vinegar, Salt and pepper.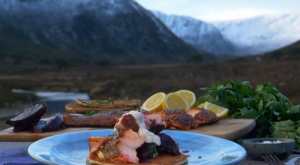 See John's recipes in his book titled: My Kind of Food: Recipes I Love to Cook at Home
available from Amazon
now.