James Martin visits Northern Ireland to discover the taste of Dexter beef and serves up a beef dish with garlic and parsley risotto and roasted shallots on James Martin's Map of Britain.
This is a rich dish of creamy risotto topped with tender pieces of fillet beef. James says: "This dish is a real taste of Ireland, and when you have a cut of meat as special as this one, the key is to keep the recipe simple."
For his recipe, James used the following ingredients:
50g butter, 50g fresh parsley, ½ garlic clove, crushed, 4 banana shallots, three halved (with skin on) and one finely chopped, 2 garlic cloves, finely chopped, 50g arborio rice, 50ml white wine, 300ml chicken stock, 25ml olive oil, 1 x 500g beef fillet, salt and freshly ground black pepper, 2 tbsp mascarpone, 50g parmesan, and 1 small bunch fresh parsley, leaves chopped.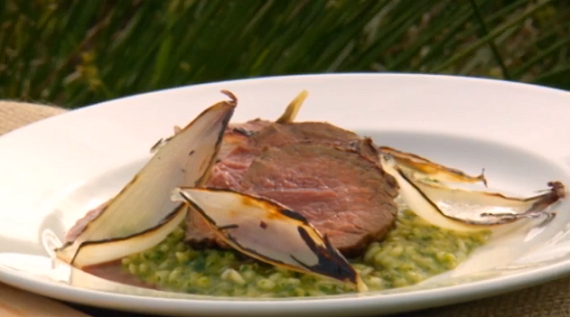 See how James prepares his dish in this video: