James Martin went to the East of Scotland to discover among other things, why the raspberries grown near Strathmore are a class apart and such a sought-after ingredient.
Later he turned his attention to the cooking and served up a raspberry panna cotta with doughnuts and raspberry sauce.
The ingredients for the panna cotta: 1 litre double cream, 200g caster sugar, 10 sheets gelatine, soaked in cold water for 5 minutes and 40 raspberries (approximately 2 punnets).
For the doughnuts: 500g strong plain flour, 10g salt, 50g caster sugar, 40g/1½oz butter, 7g sachet instant yeast, 2 free-range eggs, 150ml milk and 1 litre/1¾ pint vegetable oil, for deep frying, plus extra for greasing.
To serve: 1kg raspberries, 200g caster sugar, to coat the doughnuts and raspberries and mint leaves, to decorate.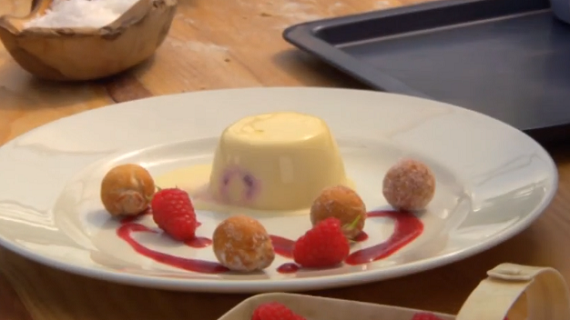 See how James prepare the dessert in this BBC Video: