Phil Vickery served up tasty chicken milanese (chicken with panco Japanese breadcrumbs) and a chopped salad on This Morning.
The ingredients are: 4 x 150g approx chicken thigh or skinned chicken breast (turkey breast slices, pork fillet, leg of lamb slices, topside of beef or even venison steaks also work well) , 4-6 tbsp cornflour or arrowroot, 2 medium eggs, beaten, 200g dried panko breadcrumbs (*sage and onion stuffing mix or crushed tortilla chips also work well in the coating), 2-4 tbsp oil and 2 tbsp unsalted butter.
For the chopped salad: 1 red onion, peeled, 2 little Gem lettuce, 1 small bag fresh spinach, 2 large Portobello mushrooms, 1 ripe avocado, ½ cucumber, handful of basil, Handful of mint and 100g frozen peas, defrosted and dried well.
For the dressing: 6 tbsp white wine vinegar, 4 tbsp extra virgin olive oil, 2 tsp Dijon mustard, 1 tbsp miso paste, pinch sugar, salt and pepper.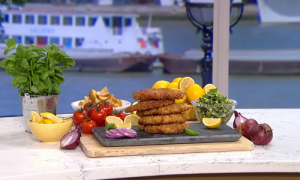 See recipes by Phil in his book titled: Save Money Good Diet: The Nation's Favourite Recipes with a Healthy, Low-Cost Boost
aviialble from Amazon
now.