Ian and Henry (the boys from BOSH) served up a delicious salted caramel apple crumble with rolled oats, banana and vegan custard on This Morning.
The ingredients for the topping are: 1 ripe medium / large banana, 1 tsp ground cinnamon, 1 tbsp rapeseed oil, 3 tbsp maple syrup, 50g pecans, 100g rolled oats, 100g wholemeal flour and Pinch of salt.
For the filling: 100g medjool dates, 120ml boiling water, 1⁄2 tsp flaky salt, 800g apples, 2 tbsp maple syrup, 2 tbsp water and 1 tsp ground cinnamon.
For the custard: 2 tbsp cornflour, 1 tbsp water, 500ml unsweetened plant-based milk, Small pinch of ground turmeric, 1 tbsp maple syrup and 2 tsp vanilla extract.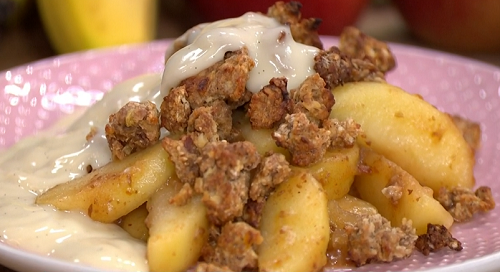 See the recipe in Bosh's book titled: BOSH! Healthy Vegan: Over 80 brand-new recipes with less fat, less sugar and more taste, from the 1 Sunday Times bestselling authors
available from Amazon
now.