Rick Stein served up a tasty brill with mushrooms, powdered ceps, cheese, pig skin and chestnuts sauce on Rick Stein's Secret France.
The ingredients are: 600ml chicken stock, 700g brill, plaice or flounder fillets, skin on, 100g unsalted butter, 3 shallots, thinly sliced, 60g confit pork skin (see tip), very finely diced, or diced ham fat, 75ml dry white vermouth, 100g vacuum-packed chestnuts, sliced, 100g fresh cep (or porcini) mushrooms, sliced, 2 tsp lemon juice, 20g pecorino sardo (or normal pecorino) cheese, finely grated, small handful fresh flatleaf parsley, chopped, salt and freshly ground black pepper, mashed potato and wilted spinach, to serve.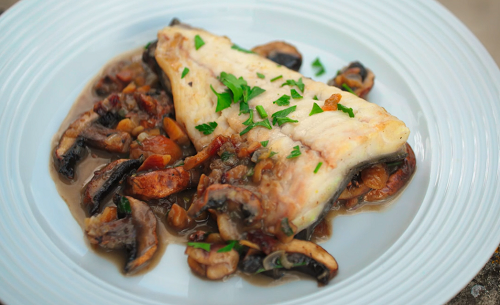 See Rick's recipes in his book titled: Rick Stein's Secret France
available from Amazon
now.