Nisha Katona served up a quick and easy to make Friday night chicken korma with fried rice on This Morning.
The ingredients are: 4 tbsp vegetable oil, 1 large or 2 small white onion diced finely, 5cm ginger peeled and grated, 2 cloves garlic crushed, 2 Chicken breasts, diced into 2 cm pieces, 1 tsp turmeric, ¼ tsp of chilli powder, 1 heaped tbsp of garam masala, 4 tbsp of natural yoghurt or creme fraiche, Water to loosen, ½ tsp Salt to taste, 2-3 tsp brown sugar, 2 heaped tbsp ground almonds, Handful of finely chopped coriander to garnish and 1 tbsp pomegranate seeds.
For the Indian Fried Rice: 2 tbsp vegetable oil, 1 tsp cumin seeds, 1 Builders mug of white Basmati Rice and 1 large jug to hold 2 builders mugs of cold water.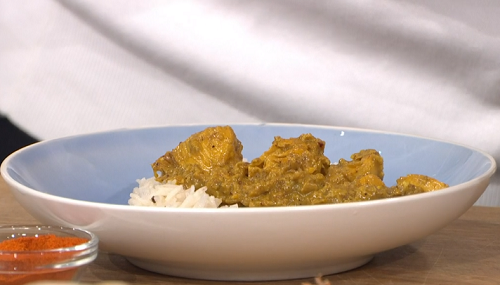 See Nisha's recipes in her book titled: The Spice Tree: Indian Cooking Made Beautifully Simple
available from Amazon
now.