Phil Vickery tasty homemade hearty soups including tomato soup, chicken soup and a leek & potato soup on This Morning.
The ingredients for the tomato soup are: 800g ripe, tasty vine tomatoes (halved), 4 cloves garlic, finely chopped, 2 tbsp tomato puree, 4 tbsp olive oil, 600mls water, 2 x 10g vegetable stock cubes, Cornflour and water mixed together, Pinch of salt, Pinch of sugar, balsamic vinegar, ground pepper and 100ml single cream.
For the chicken soup: 75g unsalted butter, 1 large onion, finely chopped, 1 medium leek, washed well and finely chopped, 200g white button mushrooms, washed and sliced, 700mls water approximately, 300mls milk, 2 chicken stock cubes, Salt and pepper, 1 heaped tbsp flour, 2 tbsp cold water, 2 tbsp cornflour, ½ egg white and 4 chicken thighs, skinless and boneless, each cut into 4 pieces.
For the leek and potato: 50g unsalted butter, 3 medium leeks, washed really well, finely chopped, 2 garlic cloves, crushed, 3 large potatoes, peeled and chopped, 600ml water approximately, 2 x 10g vegetable stock cubes, Salt and pepper, cream or milk (optional) and Croutons to serve.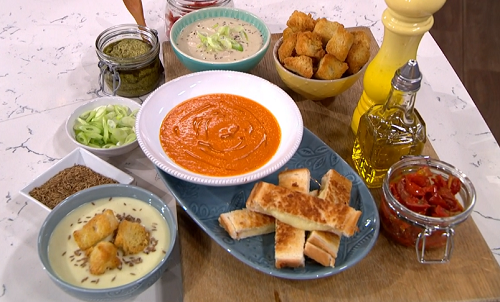 See recipes by Phil in his book titled: Save Money Good Diet: The Nation's Favourite Recipes with a Healthy, Low-Cost Boost
aviialble from Amazon
now.