Ainsley Harriott served up tasty beef kebabs with roasted chilli salsa and a cashew, coconut and watercress salad on This Morning.
The ingredients are: 1kg beef sirloin, cut into 2½cm dice, 3 tbsp olive oil, 2 tbsp minced garlic, 2 tbsp minced ginger, 1 tsp dried red chilli flakes, 3 tbsp poppy seeds, 3 tbsp white sesame seeds, 1 tbsp cumin seeds and 4 tbsp desiccated coconut.
For the Roasted Chilli Salsa: 3 long green chillies, tops trimmed, 6-8 tbsp extra-virgin olive oil, plus an extra drizzle for oiling the chillies, 1 garlic clove, peeled, a large handful of flat-leaf parsley, a handful of mint, juice of 1 lemon, sea salt and freshly ground black pepper.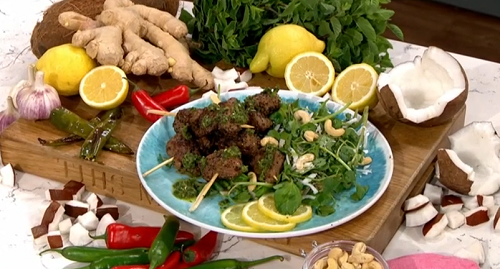 The book for the series titled: Ainsley's Caribbean Kitchen: Full-flavour easy recipes
is available at Amazon
.
See more recipes from Ainsley in his book titled: Ainsley Harriott's Gourmet Express 2
also available from Amazon
now.