Spiced chicken and pandan leaves are on the menu for the Hairy Bikers on their cooking adventure in Thailand on The Hairy Bikers Asian Adventure.
The duo serves up spiced chicken and pandan leaves (Gai how bi towey), and Thai fish cakes with a honey and cucumber dip.
Pandan leaves comes from a tropical plant in the Pandanus genus, that are more commonly known as pandan leaves, and is used widely in Southeast Asian cooking.
The bikers said about their recipe: "Pandan leaves are deep-fried parcels of spicy chicken loveliness and make a great starter for a dinner party. And the secret to great fish cakes is to form the quite sloppy mixture with wet hands – honest it works."
The ingredients for their sauce consist of : 40g finely grated ginger (squeeze the juice out of it using a piece of muslin then discard the ginger pulp), 1 pinch sugar, 1 tbsp sesame oil, ½ tbsp Thai fish sauce, ½ tbsp soy sauce and ½ tbsp rice vinegar.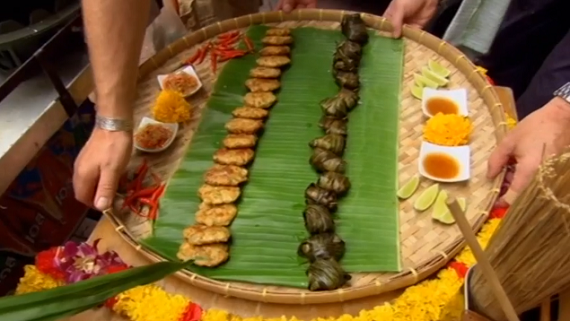 See the Hairy Bikers spiced chicken and pandan leaves Thai fish cakes Recipe being made in this video: