Gino D'Acampo served up tasty BBQ fish skewers (prawns, barracuda, squid, mackerel and monkfish) with an Italian tartare sauce on Gino's Italian Coastal Escape.
The ingredients are: 7 large lemons, 3 cut into quarters length ways, 4 squid tubes, cut in half widthways, 12 large prawns, peeled and de-veined, 500g firm fleshed white fish, skinned, pin boned and cut in to 1 inch chunks, Extra virgin olive oil, 12 tbsp mayonnaise, 3 tbsp capers, drained and roughly chopped, 2 shallots, peeled and finely diced, 1 tsp chilli flakes, 5 tbsp parsley, finely chopped, 4 tbsp fennel tops, finely chopped (dill if you can't find fennel tops), 2 large gherkins, drained and finely diced and Splash of white wine vinegar.
Salad and bread to serve.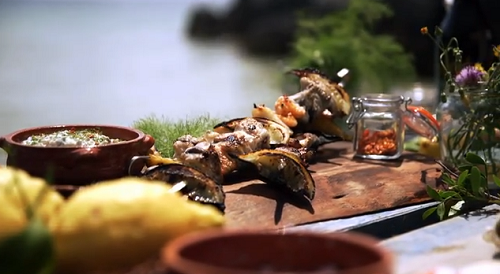 See Gino's recipes in his new book titled: Gino's Italian Adriatic Escape: A taste of Italy from Veneto to Puglia
is available from Amazon
now