Nadiya Hussain served up a delicious back-to-front baked cheesecake with a honey salted caramel sauce on Nadiya's Family Favourites.
The INGREDIENTS FOR THE CHEESECAKE are: 900 grams full-fat cream cheese, 200 grams caster sugar, 150 millilitres sour cream, 3 tablespoons plain flour, 3 medium eggs (beaten), 2 teaspoons vanilla bean paste and butter (for greasing).
FOR THE HONEY SALTED CARAMEL: 50 grams butter, 170 grams set honey, 300 millilitres double cream and ½ teaspoon salt.
FOR THE TIFFIN CRUMBLE: 150 grams digestive biscuits (roughly crushed), 75 grams unsalted butter, 30 grams demerara sugar, 50 grams dark chocolate (chips or chunks) and 50 grams toasted hazelnuts (roughly chopped).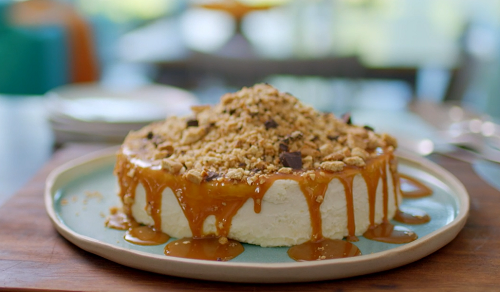 See Nadiya's recipes in her book titled: Nadiya's Family Favourites: Easy, beautiful and show-stopping recipes for every day from Nadiya's upcoming BBC TV series
, available from Amazon
now.