Neil Rankin cooks a stake and ale or brisket and porter pie using chicken stock in the This Morning Kitchen to make us a tasty savoury pie with bacon, onion and mushrooms.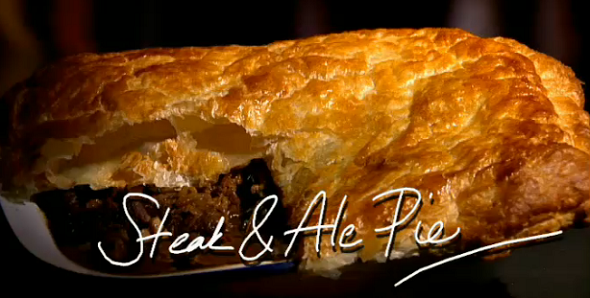 For his pie Neil used the following ingredients:
1.5 kg brisket, 200g smoked bacon lardons, 3 large white onions, 200g chestnut mushrooms, 500ml chicken stock, 400ml Harviestoub Old Engine oil porter, 4 sprigs thyme, 2 bay leaf, zest of 1 lemon, 3 cloves of garlic, 1 tbsp chopped parsley, Sea salt and cracked black pepper to season, 1 sheet of ready made butter puff pastry and 1 egg.
To make the pie, chop the brisket into large chunks and fry in small batches in a frying pan to get some colour. Deglaze pan with a little porter when finished and reserve pan juices. Then place in a casserole dish and cover with the chicken stock.
Cook in the oven with the lid on until tender (150C to cook in 3 hours or at 100C to cook slowly overnight 7-8 hours).
Meanwhile in a saucepan, fry the chestnut mushrooms and the bacon until golden brown. Then remove both and in the same pan fry the onions until caramelised.
Once the meat is ready, make your gravy by pouring out the stock and transfer to the saucepan with the bay leaf, thyme, reserved pan juice and porter. Cook this liquid down until it starts to thicken.
Once reduced add the brisket, mushrooms and bacon and cook for a little longer. Add the garlic and lemon zest and season with salt and pepper.
Preheat the oven to 200C. Allow to cool then transfer to a pie dish and make sure there is enough liquid to almost cover the meat. If not add a little water or even better some more chicken stock and porter.
Roll out the pastry to the thickness of a pound coin and cut out a size bigger than your pie dish. Brush the edges of your dish with beaten egg and lay your pastry over it and press down the edges. Brush the pasty with the remainder of beaten egg and bake for 30 mins until golden brown.