Martin Morales serve up a tasty chicharron pork sandwich with salsa and chilli mayo for the perfect Peruvian hangover cure on Sunday Brunch.
The ingredients are: 1kg pork shoulder (or pork belly), 2 tbsp salt, 1 onion, halved, 2 bay leaves, Vegetable oil, for frying (optional), 4 crusty bread rolls, 1 portion of julienned Salsa Criolla (see below), 1 portion of chilli mayo, For the Sweet potato Fries, 2 sweet potatoes, peeled and corn flour, for dusting.
For the Salsa Criolla: 1 red onion, 2 cored and deseeded medium tomatoes and 2 deseeded and deveined red chillies.
Soak the red onion in iced water for 10 minutes. Drain thoroughly and then mix with 1 tablespoon lime juice, 1 tablespoon olive oil and 2 finely chopped coriander sprigs. Season with salt and black pepper.
For the chilli mayo: 50g mayonnaise,2 finely chopped red chillies (or 1 Peruvian amarillo chilli), 1 teaspoon of red wine vinegar, 1 teaspoon of olive oil, 1 crushed garlic clove, a pinch of dried oregano and a pinch of salt.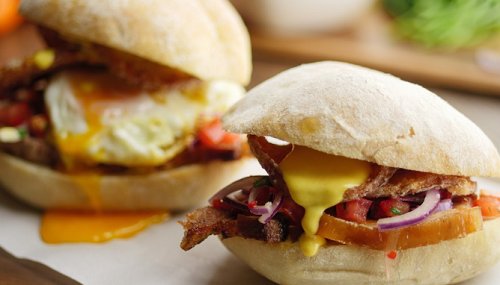 See recipes from Martin's book titled: Andina: The Heart of Peruvian Food: Recipes and Stories from the Andes
, available from Amazon
now.