Katie and Giancarlo Caldesi served up fresh pasta with a Roman raw sauce on Sunday Brunch.
The ingredients for the pasta: 200 g (7 oz/1? cups) '00' flour, plus a little extra if necessary and 2 large free range eggs.
The standard recipe for fresh pasta calls for 1 large egg to every 100g of '00' flour.
For dusting use coarse semolina as it acts like tiny ball bearings which don't stick to the pasta.
For the Roman Raw Sauce: 200 g cherry tomatoes, halved, 1 garlic clove, peeled and finely chopped, 20 g capers, rinsed well 100 g whole green olives, stones removed and quartered 1 red chilli, finely chopped, 125 g mozzarella, cut into approx. 2 cm cubes, 5 tablespoons extra-virgin, olive oil, salt and freshly ground black pepper, 3 tablespoons finely chopped flat-leaf parsley, plus extra leaves, to serve handful of basil leaves and 100 g ricotta.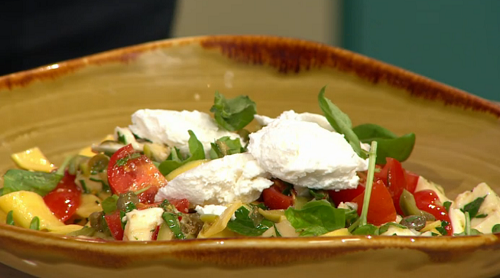 See more recipes from Katie and Giancarlo Caldesi in their book titled: The Long and the Short of Pasta
, available from Amazon
now.