Ching served up a tasty sweet and spicy stir-fry with tofu in 'Amanda vs Ryland: The ultimate wok off' competition on This Morning.
The ingredients for the Sauce: 1 tbsp yellow bean sauce, 2 tbsp low-sodium light soy sauce, 1 tbsp tomato paste, 1 tbsp clear rice vinegar or cider vinegar, 1 tbsp chilli sauce, 1 tsp light brown sugar or honey and 1 tsp dark soy sauce.
For the Tofu: 400g golden fried tofu, 1 clove garlic, crushed but left whole, 4 whole dried Sichuan chillies, 1 medium white onion, cut into 2.5cm squares, 1 large red pepper, deseeded and cut into 2.5cm squares, 1 tbsp Shaohsing rice wine or dry sherry and 4 spring onions, chopped into 2.5cm pieces.
For the garnish and to serve: 80g peanuts, toasted and chopped, optional, Toasted sesame seeds, to garnish and broccoli and steamed jasmine rice, to serve.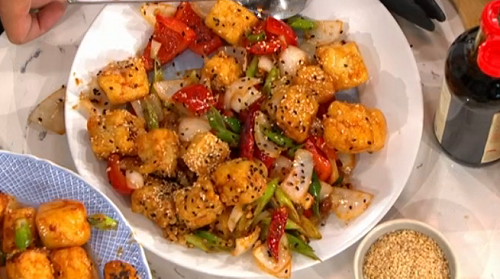 See Ching's recipes in her book titled: Stir Crazy: 100 deliciously healthy stir-fry recipes
, available from Amazon
now.