James Martin served up a delicious coconut and mojito cake with a pineapple and cream filling on James Martin's Saturday Morning.
The ingredients are: 50g coconut cream, 50g coconut oil, 175g butter softened, 200g caster sugar, 3 eggs, 175g self-raising flour and 50g dessicated coconut.
For the Mojito syrup: 100ml water, 100g caster sugar, 1 small bunch of mint chopped finely and 50ml rum.
For the buttercream: 250g butter, softened, 100g coconut cream and 500g icing sugar.
To decorate: 1 pineapple, peeled and sliced, Mint, Coconut shavings.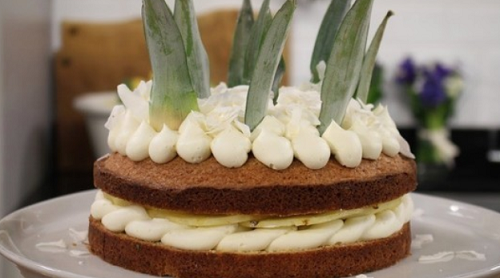 See recipes from James Martin in his book titled: More Home Comforts: 100 new recipes from the television series
, available at Amazon
now.