Chef Lenny Carr-Roberts served up potted shrimps with crab and apple jelly for Easter on James Martin's Saturday Morning.
The ingredients are: 250g butter, 1tsp ground mace, 1tsp ground turmeric, ½tsp cayenne, ½tsp ground cumin, ½tsp ground coriander, 300g Morecombe Bay Shrimp, 1 lime zest, 1 lemon juice and zest, 1 small bunch of parsley chopped, 1 small bunch of dill chopped, 3 tsp capers, 1 apple, finely chopped and 6 tablespoons white crab meat.
For the jelly: 250ml apple juice, 2tsp agar agar, Salt and pepper.
For the pickle: 100ml vinegar, 50g sugar, 25g kohlrabi, sliced julienne, 1 apple, sliced julienne and 25g mouli, sliced julienne.
To serve: Sourdough bread, oiled and griddled, Herb salad and Oil to drizzle.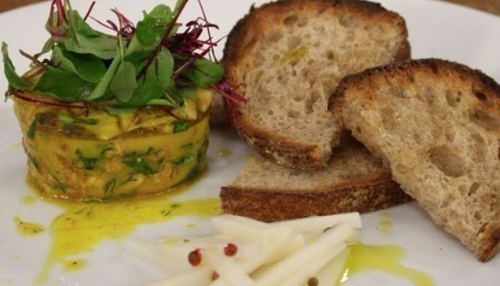 See recipes from James Martin in his book titled: More Home Comforts: 100 new recipes from the television series
, available at Amazon
now.