Mary Berry serves up delicious Italian panna cotta with pineapple and ginger salsa on Classic Mary Berry.
The ingredients for the panna cotta: sunflower oil, for greasing, 6 leaves fine leaf gelatine (11g), 600ml single cream, 300ml double cream, 75g caster sugar and 1 tbsp vanilla extract.
For the sweet salsa: 1 small ripe pineapple, finely chopped(size of a currant), 4 bulbs stem ginger, finely chopped (size of a currant) and 6 tbsp ginger syrup, from the jar.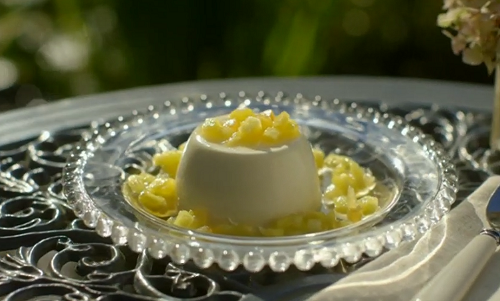 See Mary's recipes in her new book titled: Classic: Delicious, no-fuss recipes from Mary's new BBC series
, available from Amazon
now.