Gino served up tasty stuffed pasta shells with meat, vegetables and bechamel sauce using a favourite family recipe on This Morning.
The ingredients for the bechamel sauce: 40g salted butter, 40g plain flour, 400ml full fat milk and Pinch freshly grated nutmeg.
For the courgette filling: 6 tablespoons olive oil, 3 courgettes, medium, cut into 5mm cubes, 1 large onion, peeled & finely chopped and 6 large fresh sage leaves, finely chopped.
For the beef filling: 1 tbsp salted butter, 4 tbsp olive oil, 1 red onion, peeled and finely chopped, 500g minced beef, 1 tbsp fresh rosemary leaves, finely chopped, 2 x 400g tins chopped tomatoes, 4 tbsp fresh flat-leaf parsley chopped, plus extra for garnish, 15 basil leaves, plus extra for garnish, 80g pecorino cheese, freshly grated and Salt and freshly ground black pepper.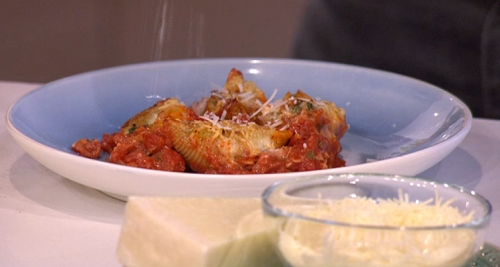 See Gino's recipes in his new book titled: Gino's Italian Coastal Escape: A Taste of Italy from the Aeolian Islands to Elba
, available from Amazon
now.