Jamie Oliver served up tasty baked British barbecued smoked ribs with whisky, homemade BBQ sauce and a potato salad on Jamie and Jimmy's Friday Night Feast.
The ingredients are: 75 g sea salt, 2 tablespoons white peppercorns, 6 fresh bay leaves, 4 racks of higher-welfare pork loin back ribs , (3kg in total) and 150 g radishes.
For the BBQ sauce: 225 g HP sauce, 300 g tomato ketchup, 170 g English mustard, 150 ml Worcestershire sauce, 100 ml whisky, 750 ml fresh apple juice and 200 ml runny honey.
For the potato salad: 500 g baby new potatoes, ½ a bunch of fresh dill , (15g), 1 bunch of fresh chives , (30g), 50 g pickled onions, 1 eating apple, 1 ripe pear, 200 g Greek yoghurt and 1 teaspoon English mustard.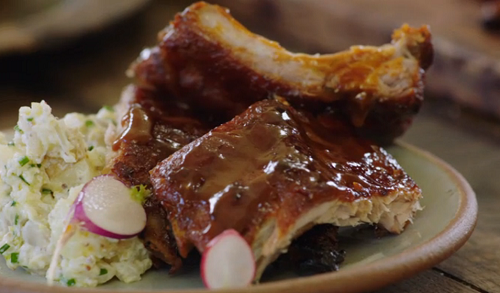 See more recipes from Jamie in his new book titled: 5 Ingredients – Quick & Easy Food
, available from Amazon
now.