The Bikers served up a tasty Corsican veal with olive stew on the Hairy Bikers' Mediterranean Adventure.
the ingredients are: 1 kg rose veal shoulder, cut into 4cm chunks, 1 tbsp plain flour, 3 tbsp olive oil, 100g pancetta, bacon lardons, or similar, 2 onions, finely chopped, 2 sticks celery, finely chopped, 3 carrots, thinly sliced, 4 garlic cloves, finely chopped, 500ml white wine, 100ml chicken stock, 1 piece pared lemon zest, 2 bay leaves, 1 large sprig thyme, 2 sprigs rosemary, 200g fresh tomatoes, peeled and finely chopped or pureed, 150g green olives, salt and freshly ground black pepper.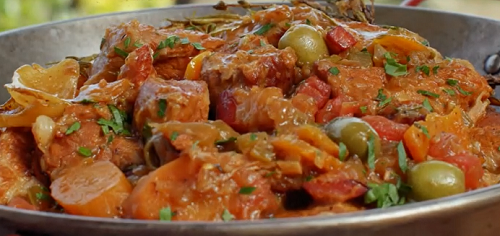 See more recipes from the bikers in their new book titled: The Hairy Bikers' Mediterranean Adventure: 150 easy and tasty recipes to cook at home
, available from Amazon
now.