Tom Kerridge served a up low calorie easy to make French apple tarts with Greek yoghurt on Tom Kerridge's Lose Weight For Good.
The ingredients for the yoghurt: 125g fat-free Greek-style yoghurt, 2 tbsp maple syrup and 2 tsp chia seeds.
For the apple tarts: 200g ready-rolled light puff pastry, 2 tbsp apricot jam, 2 large sharp, green eating apples (300g in total), quartered, cored, thinly sliced, 1 tbsp semi-skimmed milk, 2 tsp granulated sweetener, ½ tsp ground cinnamon and ½ tsp ground mace (or nutmeg).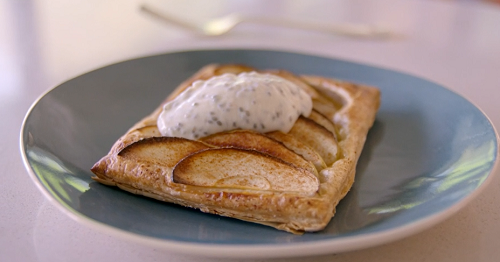 See Tom's recipes in his book titled: Lose Weight for Good: Full-flavour cooking for a low-calorie diet
, available from Amazon
now.