Simon Hopkinson makes a sticky toffee pudding from a traditional recipe on today's Saturday Kitchen live.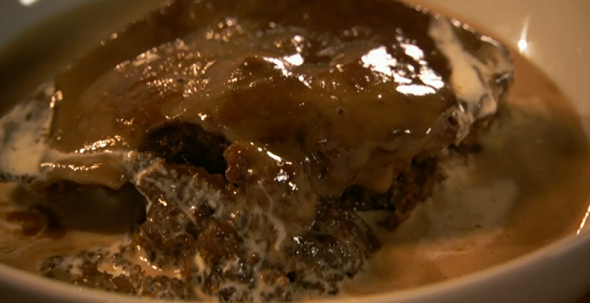 To make his pudding, Simon preheats the oven to 180C/350F/Gas 4.
He pours 275ml boiling water into a large mixing bowl and adds dates. He stirs and set aside until lukewarm. Meanwhile, he measures out all the other ingredients for the sponge and adds them to the dates and water and mix together until well combined.
Simon blends the date mixture in a food processor until nearly smooth, but with a few specks of date still visible. He generously butters a baking dish on all surfaces and pours in the sponge batter. He then bakes it in the oven for around 40 minutes
He preheats the grill to medium then proceeded to make both the topping and the extra sauce by heating the ingredients gently in separate pans, whisking regularly, until they briefly boil. He pours the topping over the cooked pudding.
Finally he places the sticky toffee pudding under a moderate grill until bubbling.